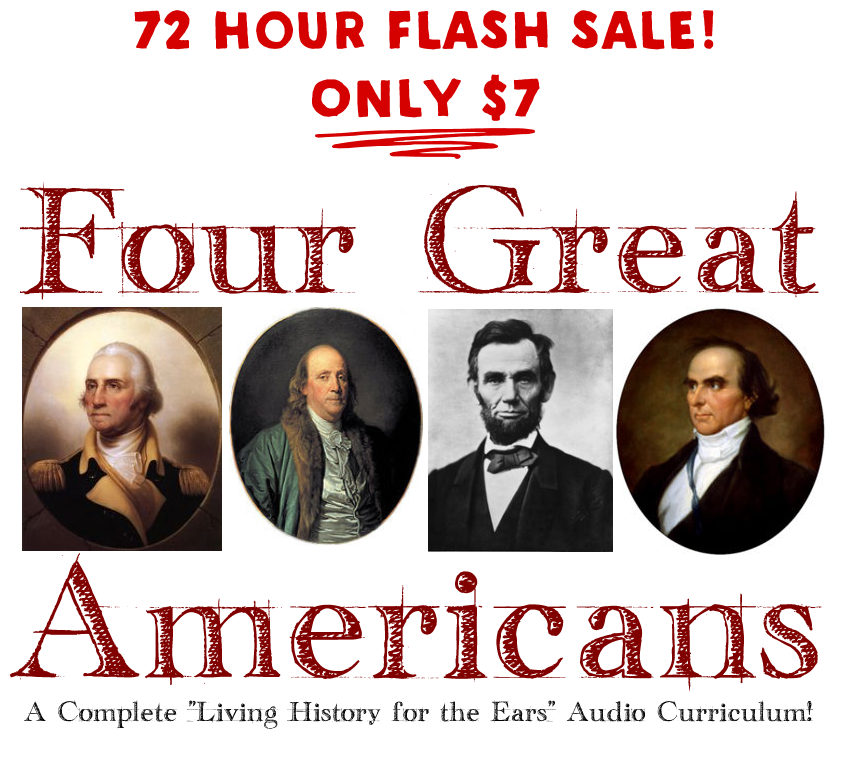 When You Introduce Your Kids to these Four Great Americans using this "super-easy-to-teach" AUDIO Curriculum,
They'll Discover the Kind of Character that Made This Country Great
Ready to make American History come alive for your kids? Then look no further… we've put together a fascinating "Living History for the Ears" collection for Students of all ages — one your kids will truly enjoy (and learn from!) and one that will be super-easy for your to "teach"… beause all you have to do is listen!
Included in FOUR GREAT AMERICANS, you'll find…
* Four Complete Audiobook Biographies:
The Stories of George Washington, Benjamin Franklin, Daniel Webster & Abraham Lincoln
* 20 + Classic Radio Dramatizations of events from the lives of these men
* 12 Bonus Story Books & Study Resources both for younger and older students to Make History Come Alive for your kids … painlessly!
All Instantly Downloadable and ready for you to use immediately! This collection is regularly $27, but during our 72 hour Flash Sale you can get your copy for…
Only $7
EXCLUSIVELY FROM HOMESCHOOLRADIOSHOWS!
In this brand new Audiobook edition of James Baldwin's classic retelling of the biographies of Four Great Americans, you'll hear the fascinating life stories of George Washington, Benjamin Franklin, Daniel Webster and Abraham Lincoln, from their youth through their early trials and tribulations to their crowning achievements as pivotal figures in American History.
Each biography is professionally narrated by experienced storytellers (who are also homeschool parents!), making your history studies come to life in a whole new way. Each biography is approximately 1 hour in length, and is suitable for young and old listeners alike.

"Associate yourself with men of good quality if you esteem your own reputation; for 'tis better to be alone than in bad company. — George Washington
George Washington (1732 – 1799) was commander in chief of the Continental army during the American Revolution and first president of the United States (1789-97). Because of his central role in the founding of the United States, Washington is often referred to as the "Father of his Country". As a young surveyor, architect and scientific farmer, and later Commander of the Revolutionary Army and President, Washington embodied American values and across the world was seen as the symbol of the new nation. And no one, even today, presumes to challenge the funeral oration of Henry Lee that among all Americans, he was "first in war, first in peace, and first in the hearts of his countrymen."
The Story of George Washington by James Baldwin (Audiobook reading by Ramona Voight) Chapters: WHEN WASHINGTON WAS A BOY / HIS HOMES / HIS SCHOOLS AND SCHOOLMASTERS / GOING TO SEA / THE YOUNG SURVEYOR / THE OHIO COUNTRY / A CHANGE OF CIRCUMSTANCES / A PERILOUS JOURNEY / HIS FIRST BATTLE / THE FRENCH AND INDIAN WAR / THE MUTTERINGS OF THE STORM / THE BEGINNING OF THE WAR / INDEPENDENCE / THE FIRST PRESIDENT / "FIRST IN THE HEARTS OF HIS COUNTRYMEN"


"Who is wise? He that learns from every One. Who is powerful? He that governs his Passions. Who is rich? He that is content. Who is that? Nobody" — Benjamin Franklin
Benjamin Franklin (1706 – 1790) is today rightly considered one of our Founding Fathers and one of America's greatest citizens. Franklin was a true jack-of-all-trades: He was an influential writer, printer, first Postmaster of the United States, statesman, diplomat, inventor, musician, scientist and philosopher. Franklin often called himself "The Laziest Man in the World", referring to his wonderfully creative inventions meant to save time and labor (including the Franklin stove, bifocals, the lightning rod, musical instruments, and much more). He, more than anyone, invented the idea of an American nation, and as a diplomat during the American Revolution, secured the French alliance that made independence possible.
The Story of Benjamin Franklin by James Baldwin (Audiobook reading by Anna Sul) Chapters: A WORD TO THE READER / THE WHISTLE / SCHOOLDAYS / THE BOYS AND THE WHARF / CHOOSING A TRADE / HOW FRANKLIN EDUCATED HIMSELF / FAREWELL TO BOSTON / THE FIRST DAY IN PHILADELPHIA / GOVERNOR WILLIAM KEITH / THE RETURN TO PHILADELPHIA / THE FIRST VISIT TO ENGLAND / A LEADING MAN IN PHILADELPHIA / FRANKLIN'S RULES OF LIFE / FRANKLIN'S SERVICES TO THE COLONIES / FRANKLIN'S WONDERFUL KITE / THE LAST YEARS


"If we work upon marble, it will perish; if we work upon brass, time will efface it; if we rear temples, they will crumble into dust; but if we work upon immortal minds and instill into them just principles, we are then engraving that upon tablets which no time will efface, but will brighten and brighten to all eternity." — Daniel Webster
Daniel Webster (1782 – 1852), a native of New Hampshire, was considered one of the most influential and important figures of the pre-Civil War period, serving his country as a highly esteemed Senator, Secretary of State, diplomat and attorney. His legal work in the Dartmouth College case made an enormous imprint on American constitutional law. He was a renowned speaker and had ambitions to become president of the US (three times!). However, because of his deeply held belief that the preservation of the Union was more important than any other issue, Webster gave a speech which denounced abolitionists, and many in the North considered him a traitor.
The Story of Daniel Webster by James Baldwin (Audiobook reading by Kathy Rentz) Chapters: CAPTAIN WEBSTER / THE YOUNGEST SON / EZEKIEL AND DANIEL / PLANS FOR THE FUTURE / AT EXETER ACADEMY / GETTING READY FOR COLLEGE / AT DARTMOUTH COLLEGE / HOW DANIEL TAUGHT SCHOOL / DANIEL GOES TO BOSTON / LAWYER AND CONGRESSMAN / THE DARTMOUTH COLLEGE CASE / WEBSTER'S GREAT ORATIONS / MR. WEBSTER IN THE SENATE / MR. WEBSTER IN PRIVATE LIFE / THE LAST YEARS


"Always bear in mind that your own resolution to succeed is more important than any one thing." — Abraham Lincoln
Abraham Lincoln (1809 – 1865), the 16th president of the United States, guided his country through the most devastating experience in its national history–the CIVIL WAR. He is considered by many historians to have been the greatest American president. Born in a backwoods log cabin in Kentucky, Lincoln was a self-educated young man with little formal schooling who made extraordinary efforts to attain knowledge while working on a farm, splitting rails for fences, and keeping store at New Salem, Illinois. He was a captain in the Black Hawk War, spent eight years in the Illinois legislature, and rode the circuit of courts for many years. As president, Lincoln brought an end to slavery in the United States and preserved the Union through his supervision of the Federal forces during the Civil War.
The Story of Abraham Lincoln by James Baldwin (Audiobook reading by Darren Cacy) Chapters: THE KENTUCKY HOME / WORK AND SORROW / THE NEW MOTHER / SCHOOL AND BOOKS / LIFE IN THE BACKWOODS / THE BOATMAN / THE FIRST YEARS IN ILLINOIS / THE BLACK HAWK WAR / IN THE LEGISLATURE / POLITICS AND MARRIAGE / CONGRESSMAN AND LAWYER / THE QUESTION OF SLAVERY / LINCOLN AND DOUGLAS / PRESIDENT OF THE UNITED STATES / THE END OF A GREAT LIFE
But you know what? There's a whole lot more in this collection!
In addition to these Audiobook Biographies, we have packed many, MANY more resources for you in this collection, so it is NOT just another set of biographies, but a wonderful course in American History… with resources suitable for both younger and older students!
Here's a rundown of everything else you'll receive in this collection:


Classic Radio Programs
We've also included on this MP3/Computer CD over 20 vintage radio programs dramatizing different stories in the lives of our Four Great Americans. You'll share some of the adventures and experiences that not only shaped these men, but also the history of the United States. Each of these audio programs runs approximately 30 minutes.
GEORGE WASHINGTON
The Young Years
A story set in the days of the beginning of the Revolution, and General Washington's touching concern about a young family member and her beau.
Valley Forge
The story of the worst winter in the Revolutionary War, and how the events at Valley Forge affected the course of the war.
The President and the Doctor
A little known story of the timeWashington almost died of a serious illness, and the amazing doctor who cared for him.
Mr. President
TWO separate episodes of this great program dramatizing true stories of the presidents' experiences while in office
George Washington, American (15 minutes)
George Washington, Scientific Farmer
Great story of Washington's innovative means of running his plantation… and of his sense of duty to his country.
_______________
DANIEL WEBSTER
The Man Who Wouldn't Be President
Great story of how Webster put his country's interests above his own ambitions.
Greeley of the Tribune
Actually a story of newspaper publisher Horace Greeley, this story involves a famous incident in the life of Webster.
All That Money Can Buy
This is the one fiction story in this collection, a very good adaptation of the play, "The Devil and Daniel Webster",
in which the famous orator is called upon to defend a farmer who has sold his soul to the Devil.
___________________
BENJAMIN FRANKLIN
The Laziest Man in the World
A great story detailing some of the fascinating inventions Franklin came up with… and his experiments with electricity & kites
The Story of Benjamin Franklin
Excellent biography of Franklin as he looks back over his life as an old man
You Are There: The Signing of the Declaration of Independence
Hear all the events surrounding the signing of this most important document in our history, as if radio reporters were covering the proceedings & interviewing many of the participants (including Washington and Franklin).
_____________________
ABRAHAM LINCOLN
Out of the Wilderness
The story of Lincoln's birth in a log cabin near Hodgenville, KY
The Girl Lincoln Loved
The story of Lincoln's OTHER great love.
Stories of Lincoln
Three separate stories about Lincoln as told on the Cavalcade of America in 1936
Mr. President
Another great episode of the program that dramatized events in the administrations of different American Presidents
Abe Lincoln, The Prairie Years
Adaptation of Carl Sandburg's famous book
Abe Lincoln, The War Years
Another Sandburg adaptation, on events during the Civil War
Mr Lincoln Goes to the Play
… the story of that fateful night at Ford's Theater
You Are There: The Assassination of Abraham Lincoln
The story of Lincoln's assassination, told as if covered by radio reporters.


EBOOKS! EBOOKS! EBOOKS!
Also included in this collection are 12 PDF format ebooks, designed to enhance your study of these famous Americans. We've included material suited both for very young students (wonderful read-aloud story collections),
to classic original biographies for older students and in-depth study.
FOR YOUNGER READERS
Each of these short collections includes several short biographical stories of these great Americans when they were young.
These are great for reading aloud and sharing with youngest readers.
Childhood Stories of Washington & Lincoln
How Ben Franklin Learned
Great Stories of Daniel Webster for Reading Aloud
FOR INTERMEDIATE READERS
Four Great Americans by James Baldwin
This is the complete original text of our Audiobook production, suitable for independent reading or to follow along with the audiobook.
A Boy's Life of Abraham Lincoln
A short biography of Lincoln
From Boyhood to Manhood – The Life of Benjamin Franklin
A good biography of Franklin
FOR OLDER READERS
George Washington, Farmer
Well illustrated book detailing Washington's life outside of politics
The True George Washington
Good biography
The Autobiography of Benjamin Franklin
Franklin's own account of his life and times
The Everyday Life of Abraham Lincoln
A fascinating collection of stories about Lincoln contributed by people who knew him (illustrated)
The Life of Daniel Webster
A good biographical survey of Webster's life
The Speeches of Daniel Webster
Selected speeches made by Webster, including his most famous orations
Why these Audio Programs are so Valuable to your Children's Education:
These audiobooks & classic radio programs were carefully screened and selected for homeschooling families for their educational and entertainment value. And unlike most "entertainment" that permeates our culture today, positive moral values and character traits are celebrated and encouraged in these stories.
These are true stories of true American Heroes… great events that shaped our history… and the qualities of character that made our country truly great. They are a great way to supplement your current studies, or a great history curriculum on their own. Your kids will learn more about our American heritage from these wonderfully evocative programs than any textbook you can find, guaranteed.
CHOOSE THE FORMAT YOU PREFER: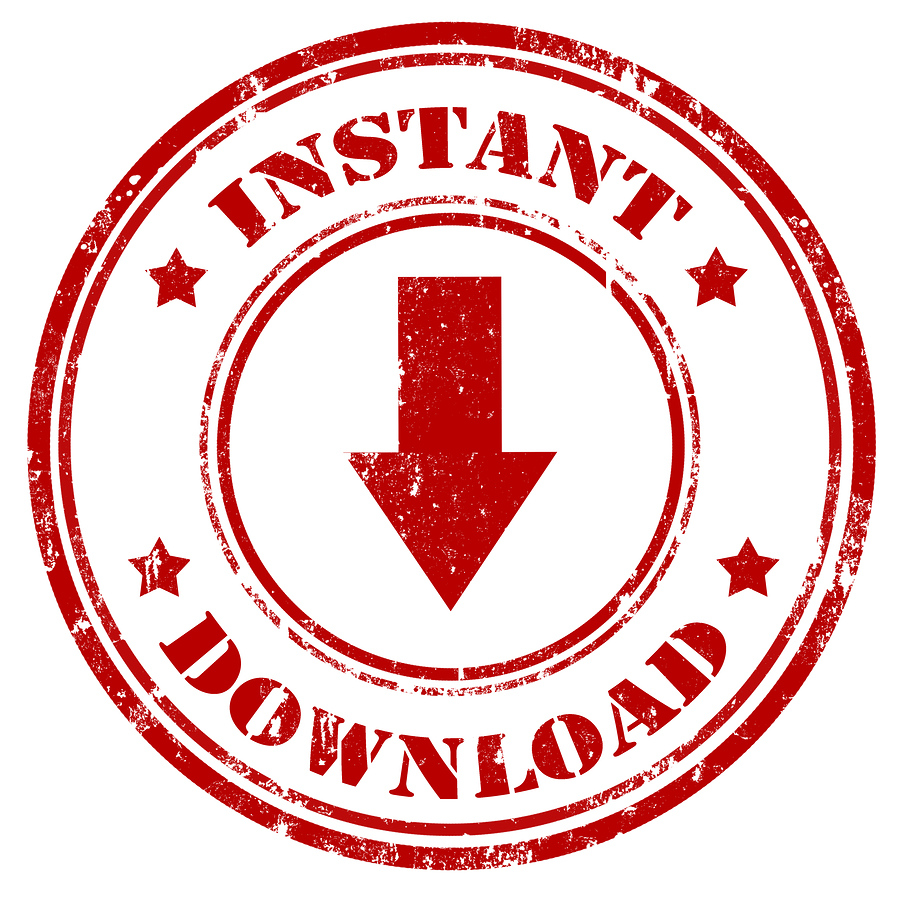 Get the downloadable FOUR GREAT AMERICANS collection (regularly $27)  for…
Only $7
Or if you prefer a physical CD…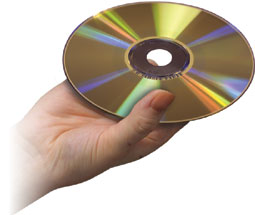 Get FOUR GREAT AMERICANS on computer CD shipped to your mailbox for
Only $12, postage paid
(US orders only, please.)
PS. Our own kids grew up listening to most of these very shows, which were the very core and heart of their history studies and education. They still love and remember these stories today… long after we put away the textbooks and lessons. We think your family will also enjoy this amazing collection of rare, wonderful American History audio programs — for YEARS to come!
PPS. This FLASH SALE will not be repeated this year. Grab it now before it's gone for good!
Questions? Problems?
No sweat… just Email us and we'll get back to you ASAP!